8:05 p.m.
KELOLAND Storm Center meteorologists have wrapped up live coverage of Thursday's storms.
8:00 p.m.
Heavy rain is now moving through eastern and southeast Sioux Falls. The storm is moving northeast. Severe Storm continues to move northeast in extreme southeast South Dakota. Wind gusts to 70 mph and hail possible.
7:47 p.m.
Hail (in white) inside the storm south of Worthing. Storm is moving northeast.
Severe Storm continues to move northeast in extreme southeast South Dakota. Wind gusts to 70 mph and hail possible.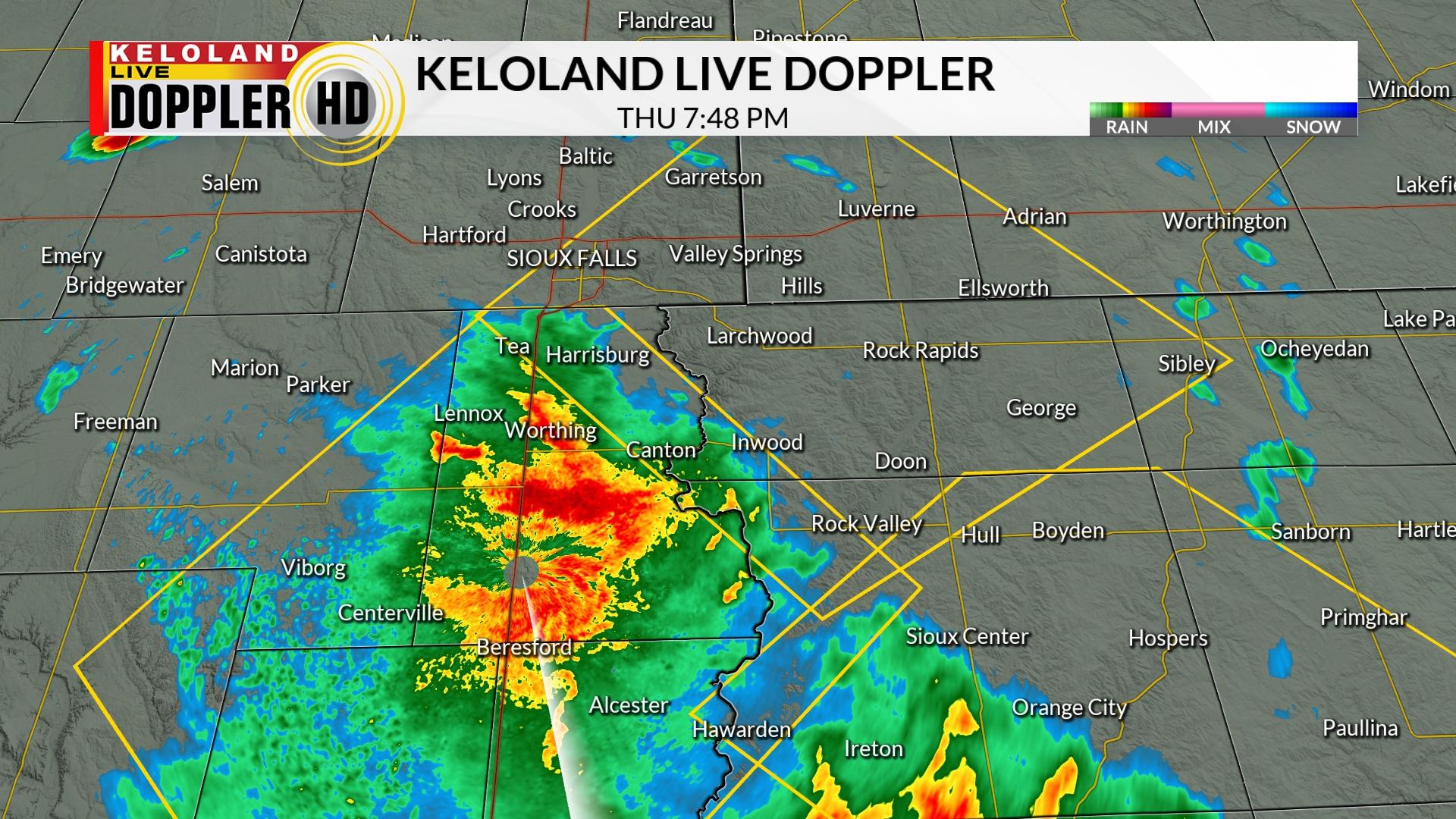 7:30 p.m.
Cold front will move through southeast KELOLAND and bring in much cooler and drier air for tomorrow. In fact, dew points are already in the 40s/50s behind the front with dew point temperatures in the upper 50s and 60s ahead of it.
Severe storm south of Sioux Falls is moving northeast with winds up to 70 mph and hail around 1″ possible.
7:19 p.m.
Storms in extreme southeast South Dakota are now severe and moving northeast. Large hail and damaging winds are possible.
Storms are developing in northwest Iowa and moving northeast. Wind gusts up to 70 mph are possible.
6:15 p.m.
New tornado warnings issued in northeastern South Dakota: Brown, Clark, Spink, Deuel, Day Counties.
Intense wind possibilities could be coming for the area just south of Webster and Waubay according to most recent velocity reports.
Funnel cloud reported in Waverly near the Minnesota border.
---
6:00 p.m.
The storm is entering downtown Watertown from the southwest. Here's a look at the KELOLAND Live Cam as of 6 p.m. As the wind picks up, lightning can be seen on the Live Cam.
Northwestern Energy is reporting widespread power outages stretching from Yankton to Huron.
---
5:55 p.m.
New tornado warnings were reported in southeastern Day County, northeastern Hamlin County, Grant and Codington County. Those warnings are in place until 6:30 p.m.
---
5:45 p.m.
Near Chamberlain, KELOLAND News is hearing reports that 64.5% of the county is without power.
Several homes in Salem lost roofs, grain bins down, semis and farm equipment toppled from Salem to Bridgewater according to the McCook County Emergency Manager.
---
5:37 p.m.
Clark, Henry, and Gaarden City are now being added to the tornado warning as the storm quickly moves in that direction.
No travel is being advised in the city of Sioux Falls.
Sioux Falls is still seeing wind gusts as high as 60 mph.
New tornado warning in Clark and Codington County being reported. Meteorologist Adam Rutt says to expect to see the storm enter that area in 10 to 15 minutes.
Straight line wind damage is being reported across KELOLAND.
---
5:30 p.m.
Tornado warning in place in Clark and Spink County.
A viewer sent in the photo below of a downed exit sign at the Louise exit of Interstate 229 in Sioux Falls around 5:15 p.m.
---
5:25p.m.
Severe thunderstorm warnings are being extended into Iowa and Minnesota as the storm continues to move quickly to the northeast.
As the wind moves through, rain is following just behind.
Tornado threat expected to develop quickly over the next hour in northeastern South Dakota.
---
5:19 p.m.
Tornado warning in McCook, Lake and Moody Counties have been cancelled.
Wind gusts of 97-mph are being reported in Madison. Colton recorded 81 mph with Baltic seeing 70 mph gusts.
---
5:15 p.m.
Reports of shingles blown off roofs as the storm continues to move through. KELOLAND News is also hearing reports of downed power lines.
The rain is following behind a destructive wall of wind with some small hail being reported.
---
5:11 p.m.
The storm is moving quickly northeast.
70 mph gusts measured at the airport in Sioux Falls with 80 mph recorded on the south side of Sioux Falls. as of approximately 5:10 p.m. In Montrose, a 76-mph wind was reported.
---
5:05 p.m.
Widespread power outages can be expected in Sioux Falls as the storm rolls through.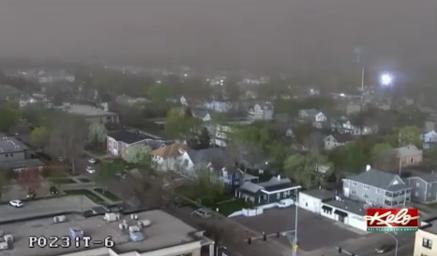 ---
5:00 p.m.
The severe thunderstorm is approaching Sioux Falls.
---
4:50 p.m.
Tornado warning now in place for Hanson County and McCook County.
---
4:43 p.m.
The forecast for Sioux Falls includes winds at 75-80 milers per hour in the next hour.
A severe thunderstorm warning from the National Weather Services says the winds could be destructive. Flying debris could cause serious damage or injury.
---
4:34 p.m. CT
A line of severe storms is moving through eastern South Dakota Thursday afternoon.
Our KELOLAND Meteorologists are tracking the storms, which started developing in Nebraska throughout the day.
The storm could bring winds up to 100 miles per hour.
---
3:22 p.m. CT
As expected, it is warm, windy, and increasingly humid. Temperatures are already above-normal for mid May, while the western edge of South Dakota is much cooler.
Another round of severe thunderstorms is HIGHLY likely this afternoon and evening, and there is even more energy available in those storm clouds than there was yesterday. A low pressure system in the Nebraska panhandle will continue to push a warm from south to north in the eastern half of South Dakota. That will set the stage for thunderstorms, which we expect to develop in south central South Dakota and grow as the line moves to the east in the mid to late afternoon.
There is a moderate risk of severe weather, a four on the risk scale of one to five. Current thinking is that the main risk is that storms will form a line and a huge "wall of wind" what will move through eastern KELOLAND during the dinnertime through early evening.
While tornadoes are not impossible, a widespread damaging wind event could prove more destructive, because many locations could be hit with fierce wind gusts. Straight line winds of 80 mph are not impossible. But there could also be some pockets of heavy rainfall, mainly along and east of I-29 tonight.
As the storms move away, clouds will break up from west to east. Lows will be in the low 50s, cooler in Rapid City where skies will be clear.
On Friday, it will be quite breezy with a westerly wind. Skies will be mostly sunny, but cooler air will follow those storms through KELOLAND, so Friday's highs will only be in the low to mid 70s, a few degrees cooler in Rapid City.
The weekend looks fairly quiet. Skies will be partly cloudy on Saturday, with near normal highs in the upper 60s to low 70s with a westerly breeze.
Sunday will be mostly sunny and breezy, with temperatures holding in the low 70s.
Monday looks about the same, with partly to mostly sunny skies, and the upper 60s to low 70s. Then we'll bring rain chances into the forecast for Tuesday and Wednesday, and highs still near-normal in the upper 60s to low 70s. Right now it appears it will just be rain, probably not severe thunderstorms.
Temperatures will warm a little toward the end of next week, when thunderstorms will be a little more likely.