Good afternoon, y'all—hope all is going well with you, as always.
With All-Star reserves being announced Thursday night, I thought it made sense to run down who I'd plug into each conference's final seven spots if I ruled the world (and didn't have to abide by the NBA's guidelines).
Western Conference reserves
The must-haves: Shai Gilgeous-Alexander, Damian Lillard, Ja Morant, Lauri Markkanen, De'Aaron Fox
It'd be challenging, if not impossible, to build a case against SGA or Lillard; both of whom are the best players on their respective play-in hopefuls while averaging more than 30 points on highly efficient shooting. Shai has a 51/36.8/90.8 slash line thus far and is leading the NBA in free throws, while Lillard, enjoying a career-best true-shooting percentage of 63.7%, ranks fourth in the league in offensive box-plus minus.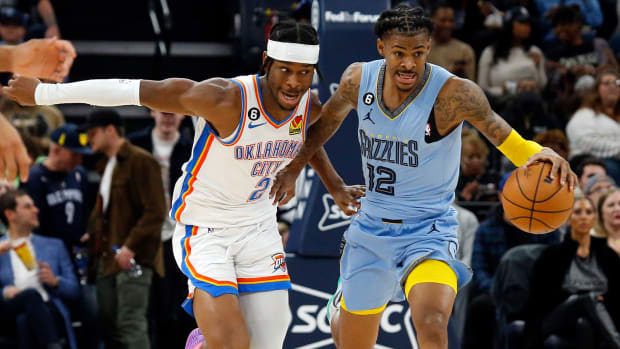 Morant's efficiency is down some from a year ago, but his scoring has held level and he's assisting at a much higher clip than he ever has, all while helping propel—at times levitate feels more appropriate?—Memphis into second place out West. At 52/43/87 and nearly 25 points and almost nine boards a night, Lauri Markkanen had a solid case to start the game, in my opinion. (I even chose him as a starter on my official ballot, alongside Nikola Jokić and LeBron James.)
And while De'Aaron Fox might represent a borderline case to some … he isn't to me. Not when he's leading the association with 119 points in the clutch while connecting on a ridiculous 60% of his attempts in those scenarios—the best in the NBA by far when it comes to guys with 50 or more tries—while serving as the fast-paced engine for the No. 3 team in the conference. He has been more efficient than ever and is turning it over at a lower rate than ever. And while his defense certainly isn't elite (few, if any, things are when it comes to Sacramento), the improved effort on that end has been noteworthy. He belongs.
The final spots: Anthony Edwards, Domantas Sabonis
Just like Fox belongs, his star forward/center, Domantas Sabonis, does, too.
While he isn't the ignition switch for the Kings like Fox, he plays as integral a role as someone else who can play within the Sacramento offense, which is the NBA's most efficient. His screening, positioning and handoffs with Kevin Huerter and Keegan Murray, among others, open things up. He also leads the NBA in total rebounds and ranks ninth in the league in total assists, while shooting above 60% from the floor. It's largely why the Kings—the Kings!—are in third place.
Perhaps some will argue for former All-Star Game MVP Anthony Davis, and production-wise, that makes sense. When he's been on the floor this season, he's been dominant—certainly the best and most efficient version of him we've ever seen as a Laker; at least as far as regular seasons are concerned.
But that's just it: he hasn't been on the court much. If he can stay healthy during the second half, he'll have a strong case for an All-NBA spot. Still, missing 24 out of 51 games to this point is impossible to overlook when Sabonis has played in 47 of 49. Sabonis deserves to be a lock.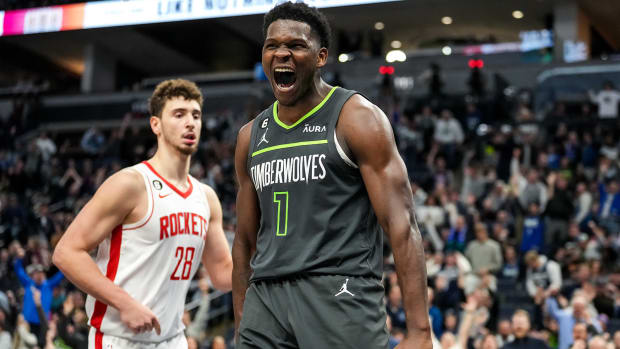 Also, how about Anthony Edwards? So many of us hoped and believed we'd see a leap from him this year, and the heater he's been on since shortly after Karl-Anthony Towns got injured validates that he's here and willing to meet the great expectations placed upon him. Efficient 30- and 40-point nights come semi-regularly for him now. So do certain reads and passes, now that he's illustrating improved playmaking skills and averaging upwards of five assists per night since Towns exited the lineup. For the season, he's at 24.9 points, 6.1 rebounds and 4.5 dimes on career-best efficiency.
The best part: Minnesota, a team that wasn't fun to watch early on—and that many speculated might make a panic trade after its sluggish start with Towns and Rudy Gobert—is on a nice run. Before their loss Monday, the Wolves were tied for the league's best record in 2023, at 11–4.
Several other guys, aside from Davis, were worthy of consideration for those last few spots. They include Paul George, who's having a season on par with each of the others he's had with the Clippers; CJ McCollum, who has been highly impressive despite having to morph into a No. 1 option many nights in New Orleans; Aaron Gordon, who's playing the best basketball of his life by far this season with first-place Denver; and Devin Booker, who would certainly have a spot of his own if it weren't for how many games he's missed.
Eastern Conference reserves
The must-haves: Bam Adebayo, Jaylen Brown, Joel Embiid, James Harden, Julius Randle
Embiid made the loudest MVP argument possible over the weekend against the two-time defending MVP (and possible frontrunner this time around?), so his case as an All-Star is cut and dry. If it weren't for the league's foolish positional requirements, he'd be starting.
Brown's case to make the team is nearly just as clear-cut. His stroke from the arc has been off-target—the worst of his career, in fact—but the combination of his aggressiveness in getting to the line and sinking his midrange looks at career-best rates are more than enough. They both have a lot to do with how he's logging 27 points per night for the East's top team.
Adebayo has everything to do with how and why the Heat are back in business after a sluggish opening to the season. He's the glue to their unusual defense, which utilizes zone more than any team in modern history. (Although opponents have tried to scheme him out of the game, by purposely going away from his side of the court.) But he's more than just a perennial Defensive Player of the Year candidate. He's progressed yet again on offense and is logging career-best shooting percentages on jumpers from inside 15 feet. In the clutch, he's 57.6% (19-for-33) on the season. Someone who gets you 21, 10 and 3 a night, when defense is ultimately their best asset, is downright scary.
Big props to Randle, someone whose name generated frustrated, boogeyman-like reactions from New Yorkers last season. It was an abrupt change: Back in 2021, people couldn't stop talking about how incredible he was. But coming into this season, virtually everyone wanted him—and his seemingly less-than-stellar attitude at the time—shipped out of town.
Statistically, Randle looks a whole lot like the All-NBA version of himself from two seasons ago. No, the threes aren't falling at that clip. But 34% isn't disastrous, and you can live with it much more easily when he's working as hard as he is. Despite standing 6'8", he's second in the NBA in rebounds. If the Knicks land a single All-Star spot, Randle is the most deserving.
As for Harden, many of us wanted to see an ample bounce-back after last season's playoff flameout in Philly, and he's provided that since returning from a month-long injury. His free-throw numbers are far from his astronomical heyday, but he's still wildly productive, drilling triples at the highest percentage since his early Oklahoma CIty days while handing out more than 11 dimes per game.
So which two players get my last two spots?
The final spots: Tyrese Haliburton, Pascal Siakam
Siakam has logged more minutes per game than anyone in the NBA so far (like he did last season, too), so it's fair to wonder whether the toll of putting a struggling offense on his back might hold down his numbers a bit.
Lately, that might be the case. His true-shooting numbers are down a bit in January. Nonetheless, for someone who made the All-NBA Third Team last season, it's highly impressive to see him averaging even better counting stats than before: 25 points, eight boards and six dimes.
None of the other contenders for one of the final East spots—aside from perhaps the guy I'm about to mention—can argue that their play has propped their team up as much as Siakam has.
That, of course, would be Haliburton, without whom the Pacers have now lost 10 of their last 11, including the game he sustained his elbow sprain and knee bone contusion. It's a far cry from the 8–2 mark Indiana logged during the immediate stretch before Haliburton got hurt.
The team is young. But Haliburton's vet-like presence—both as a shooter, and even more so as a maestro and playmaker—helps make the Pacers look wise beyond their years at times. He's hardwired to make the right play just about every time, and so rarely makes mistakes. His crosscourt passes win games, in some cases. It wouldn't be surprising if he accomplishes 50-40-90 someday, because he's already in that vicinity now, at age 22, while averaging 20 points and a league-best 10.2 assists per night.
But by picking him and Siakam, that means a whole bunch of talented stars would miss out.
Lord knows Jalen Brunson deserves a spot, especially given that his ability to run the Knicks' offense has seemed to have such a massive calming effect on Randle's game. (Though for where the Knicks are positioned standings-wise, they don't need two reps in the game.) Darius Garland has to feel he deserves it in a year where he's put up identical numbers to the ones he made the team with last season, all while playing on a Cavs club that's better now than it was then. Trae Young, even with pretty brutal shooting efficiency by his standards, has a case because of how many points he generates as both a scorer and a distributor. (But his shooting, paired with his defense and Atlanta's struggles, leave me thinking there are better choices here.) Young and the far more efficient Dejounte Murray split so many of the ballhandling reps that it makes it challenging to pick either player from a team that hasn't played to its potential.
The Bulls' offensively talented guards, DeMar DeRozan and Zach LaVine, are in a similar boat, although DeRozan's case is bolstered by the fact that his numbers are superior, particularly in the clutch, where he's scored more points than any player in the East to this point in the season.
Even Jrue Holiday and Jimmy Butler fall in that predicament (with far better defensive chops, obviously): highly deserving players who get to split their responsibility with another All-Star teammate. Jrue, specifically, has been fantastic—both scoring it and defending—for Milwaukee considering how long the team had to play without star forward Khris Middleton in the lineup.
Should there be an injury replacement, good luck deciding which player deserves the nod. There are plenty.
Meat and potatoes: Good reads from SI and elsewhere this past week
Angela Swartz of Almanac News had a piece on Steph and Ayesha Curry, who wrote into their town officials in Atherton, California, to oppose a 1.5-acre lot where 16 townhomes would be developed almost directly behind the couple's $31 million gated home. "We hesitate to add to the 'not in our backyard (literally) rhetoric, but … Safety and privacy for us and our kids continues to be our top priority and one of the biggest reasons we chose Atherton as home," Curry wrote. In the letter, the Currys asked, at minimum, that the town build taller fencing to keep views of their home private.