John Harbaugh sat down at 7:45 a.m. local time at the Arizona Biltmore in Phoenix, with his quarterback presumably on the other side of the country, a gaggle of media crowding his table at the NFL owners meetings, and his Ravens facing as much uncertainty at the position as they have in a decade.
Three minutes later, Lamar Jackson hit send on his Twitter account, and turned the volume up to full blast.
The timing of Jackson's missive, tweeted at 7:48 a.m., was about as much of an accident as the Ravens' putting the franchise tag on their quarterback 20 days earlier. It was direct, and clearly meant to send a message, which, to me, was twofold, beyond just the news he broke that he asked for a trade on March 2, five days before Baltimore even put the tag on him.
One, it illustrated where things stand—from Jackson's perspective—in the negotiation (not a good place). Two, it emphatically showed that Jackson and those around him—after weeks of being depicted as aimlessly wandering through the offseason—could be just as cold and cunning, and tough, too, as NFL teams would be on the other side of the table.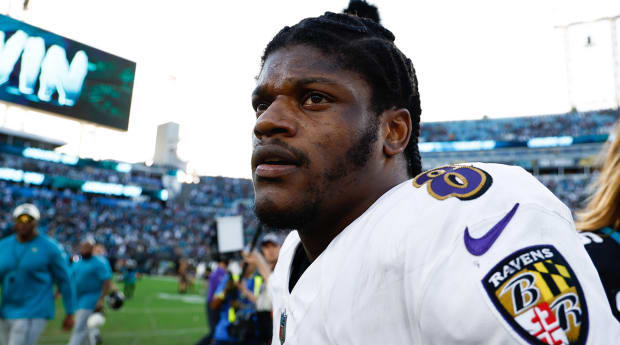 Now, what it didn't do was change this simple fact—this situation has gotten as weird as any QB negotiation has been in recent memory, and maybe ever.
It's not hard to follow the facts on this one.
PIACENTI: Trade Request Sends Ravens Super Bowl Odds Tumbling
You can start with the two sides simply being here in the first place. Sometimes, with a Kirk Cousins or a Daniel Jones, you get a bumpy path to a life-changing contract. But arguments in those cases weren't over at which level a team wanted to hitch its wagon to the player. It was whether the team should do it at all. In Cousins's case, that led to consecutive franchise tags in Washington, then free agency and a three-year, fully guaranteed $84 million deal in Minnesota. In Jones's case, it meant the Giants paying a heavy tax for waiting a year and eventually agreeing to a four-year, $160 million contract that could wind up as much as $195 million.
It almost never happens that way with a guy in Jackson's position seeking an extension. Andrew Luck's contract got done without incident after four years. Same with Cam Newton. After that, teams trended to get ahead of the market by doing deals early. So Deshaun Watson, Patrick Mahomes and Josh Allen were extended after three years, Jared Goff and Carson Wentz received extensions, too, and Joe Burrow, Justin Herbert and Jalen Hurts presumably will get second contracts later this offseason.
Jackson, meanwhile, had his fifth-year option exercised after his third year, and actually had to play on it (which had happened only twice with quarterbacks, and, again, it was with lesser players, in Jameis Winston and Marcus Mariota, in 2019).
Remember, Jackson won league MVP in 2019, made two Pro Bowls and the Ravens blew up their offense to highlight his talents, putting together a scheme blending elements of the pro game with service-academy football. Also, had Jackson and the Ravens agreed to a long-term deal with a traditional structure when he was first eligible, in '21, he and the team would be coming down the stretch on the guarantees, the team would have saved tens of millions of dollars in the long run and Jackson would be at nine figures in career earnings.
For comparison's sake, Josh Allen, Jackson's draft classmate, will be over $95 million in cash flow from the deal he did in 2021, which adds to what he made on his rookie deal. The Bills, meanwhile, are out of the guaranteed money after next year, have seen the market rocket well past the $43 million per year they gave Allen and have him under contract for another six years. The team and quarterback can keep planning ahead as a result.
That's a simple equation, like most of these.
Great quarterback. Contending team. Deal done.
Instead, in this situation, what's usually simple got progressively more complicated, and even more so over the past month, first with the market proving lukewarm (thanks to a combination of price, draft-pick compensation, injury history and the need to build a very different offensive scheme for him), then with an adviser named Ken Francis emerging to sell Jackson to quarterback-needy teams during the second week of free agency, without notice to the Ravens, or Francis having any experience swimming in those waters.
FABIANO: Best Fantasy Landing Spots for Lamar Jackson
So where do the Ravens stand in all this? Looking for answers—on Francis—and otherwise. They made an offer last year that included $133 million fully guaranteed at signing, a $175 million injury guarantee and an additional $25 million guarantee for 2026 that would vest in early '25 (making it virtually guaranteed). The problem was the nonguaranteed, back-end years. But that offer, not the only one Baltimore has made, would've meant a virtual guarantee of $200 million, coming before the injuries of '22.
The other side of this is right there—the Ravens haven't been willing to go the distance on a fully guaranteed deal such as the one Watson got last March from the Browns. That's left the sides separated by a gap that should be bridge-able, maybe by taking the structure of a longer-term deal, and chopping off the nonguaranteed years in a way where both sides can claim victory. Add a no-tag provision, and a fully guaranteed, three-year deal with a path to free agency in 2026, at least on paper, would allow everyone to walk away a winner.
If that seems too simple, well, obviously it has been, with the negotiation further careening off the rails, Francis emerging, and the trade request revealed.
Now, it's on the Ravens to try to quiet the situation.
Which, on Monday morning, was about the opposite of what Jackson set out to do.